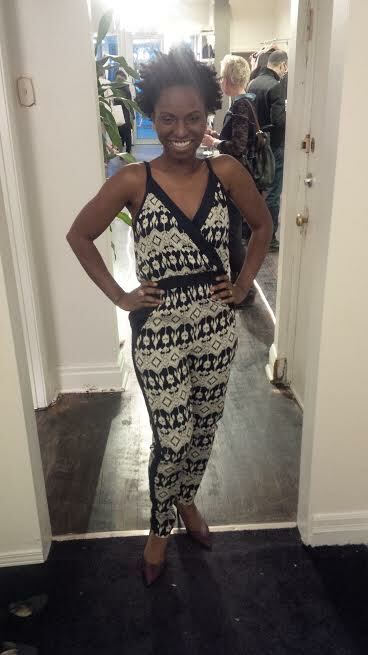 To be fair, I hadn't ventured to the area in a while because of the endless construction. But I quickly learned that the store, which is around the corner from Eglinton West station, is a hidden gem of the area.
Within minutes of walking in, my eyes zoned in on a jumpsuit hanging on the rack to the far left of the cashier table. I ended up taking the beige and navy patterned suit home with me! While it was not a signature Ellé Marks piece, the sizing accuracy made it feel like a custom.
The store offers classic items infused with trendy detailing from Ellé Marks herself and a host of other designers from across Canada and the world. You'll also find eclectic jewelry and accessories ethically made from around the globe. Clothing prices start as $50 and can go up to $300. Accessories are $30 and above.
Ellé Marks defines her brand as "An eco-friendly ready-to-wear collection made from sustainable fabrics designed and made in Canada." All her signature skirts are sewn by a group of seamstresses and tailors in the Greater Toronto area.
Her line offers 12 signature skirts that she describes as "take down the boardroom" basics. She feels that every woman should own and embrace her femininity, in the boardroom or otherwise. Marks believes you can only stand in confidence when in comfort. So her fabrics are carefully chosen and are tailored to fit all body types. The fact that most of the skirts were pre-sold attests to this. Click HERE to check them out.
All this started when she made herself a pencil skirt from a pattern. Neighbours and friends started inquiring where they could get one and before she knew it Ellé was making and selling those pencil skirts. Realizing there was a need for high quality affordable basics, Ellé rented space in a friend's store where her items repeatedly sold out. Opening her own store was the next natural step and when the opportunity came, Ellé didn't look back.
Brick and mortar retail businesses are increasingly challenged by the growing number of online stores. This is something Ellé is very aware of. She minimizes this risk with two very strategic efforts that speaks to her ability to balance creativity and commerce. First, a small portion of the store is rented out to start-up fashion designers, ensuring an additional flow of income. Second, she provides a tailoring experience that brings in a steady flow of returning customers. I know this to be true first hand. Besides the jumpsuit, I bought a dress that Ellé personally fitted to my frame. When I wore it, I immediately felt like I could take down ANY boardroom!
That's the power of her pieces and the selections in the store. That and her easy going personality will charm you. Many of the people who attended the opening were customers that have become friends/acquaintances. Her commitment to helping you look your best leads to a rack full of irresistible items. I highly recommend you stop by. Plus, it'll feel good supporting a local business with a heart made in Canada.
Ellé Marks & Co. is located at 1166 Eglinton W, Forest Hill.
It is a 5 min walk east from Eglinton West Station.